This will almost certainly be my last post before the day itself, so it just remains for me to wish you all - family, friends, followers and readers from around the world(!) - compliments of the season, a very Merry Christmas and a happy holiday.
It has become something of a little tradition with me to have a mini-marathon of Christmas-themed episodes of my favourite TV programmes in the days running up to the 25th. So to finish up with here is a run-down of my pre-Christmas viewing thus far:
The episode of
A Nero Wolfe Mystery
, the much underrated adaptation of the Rex Stout novels that ran for far too short a time between 2001 and 2002 (plus the pilot in 2000), entitled
Wolfe Goes Out
. Interestingly in the original North American airings it is actually shown as two separate episodes -
Door To Death
and
Christmas Party
- but for the European version they were spliced together and some previously unseen footage added in the middle to provide a seamless transition. I
love
this series; there are some great ideas for men's - and ladies - fashions, there's a brilliant use of colour and Maury Chakin and Timothy Hutton are perfect as Wolfe and Archie Goodwin. That it was cancelled after only two seasons, is barely shown in the UK and is not available on Region 2 DVD is an absolute travesty.
Anyway, putting that aside, my next treat was
The Blue Carbuncle
, the Christmas episode of the 1980s Granada TV adaptation of
The Adventures of Sherlock Holmes
. Starring the incomparable Jeremy Brett this is a smashing story, with a delightful Victorian Christmas ambience.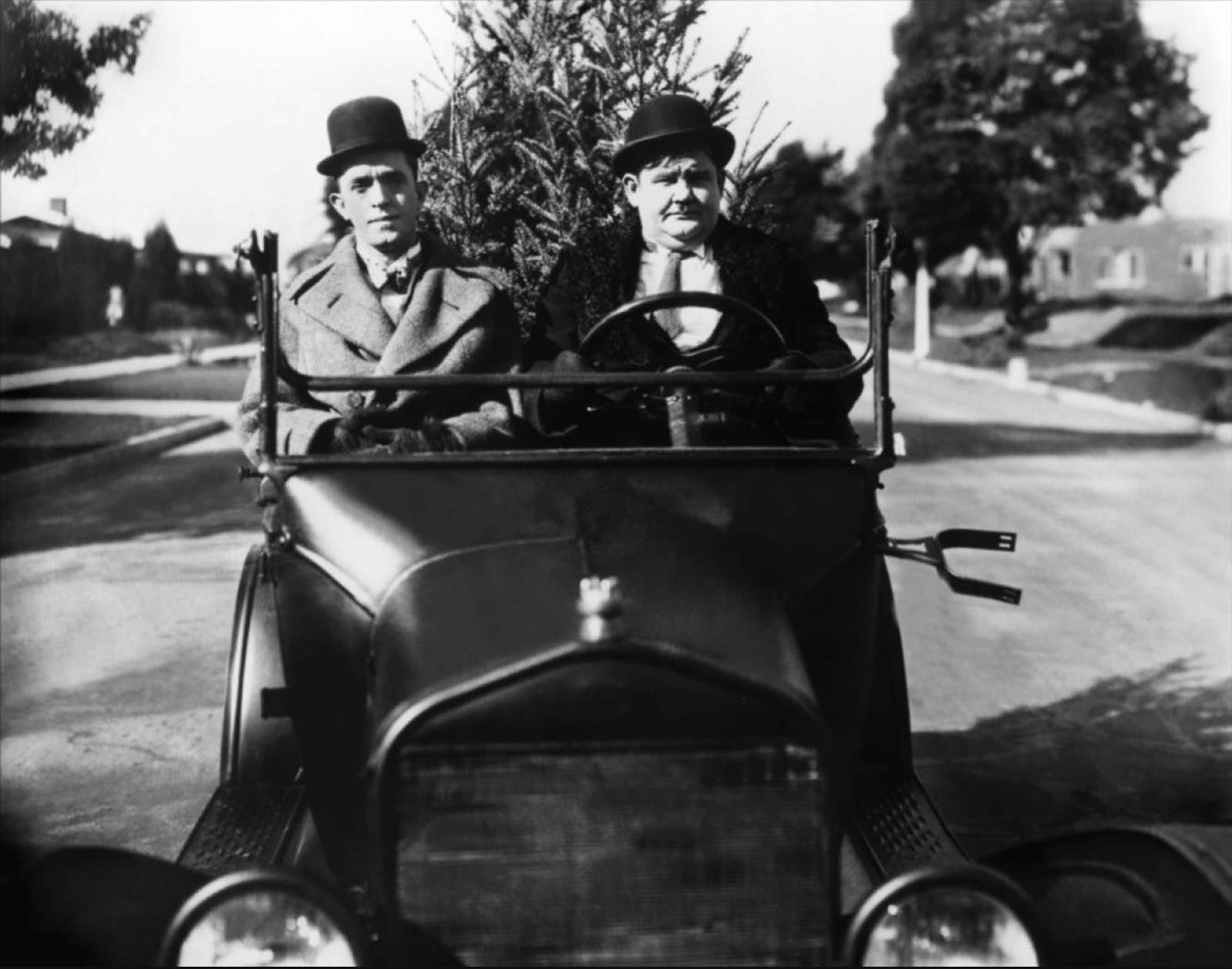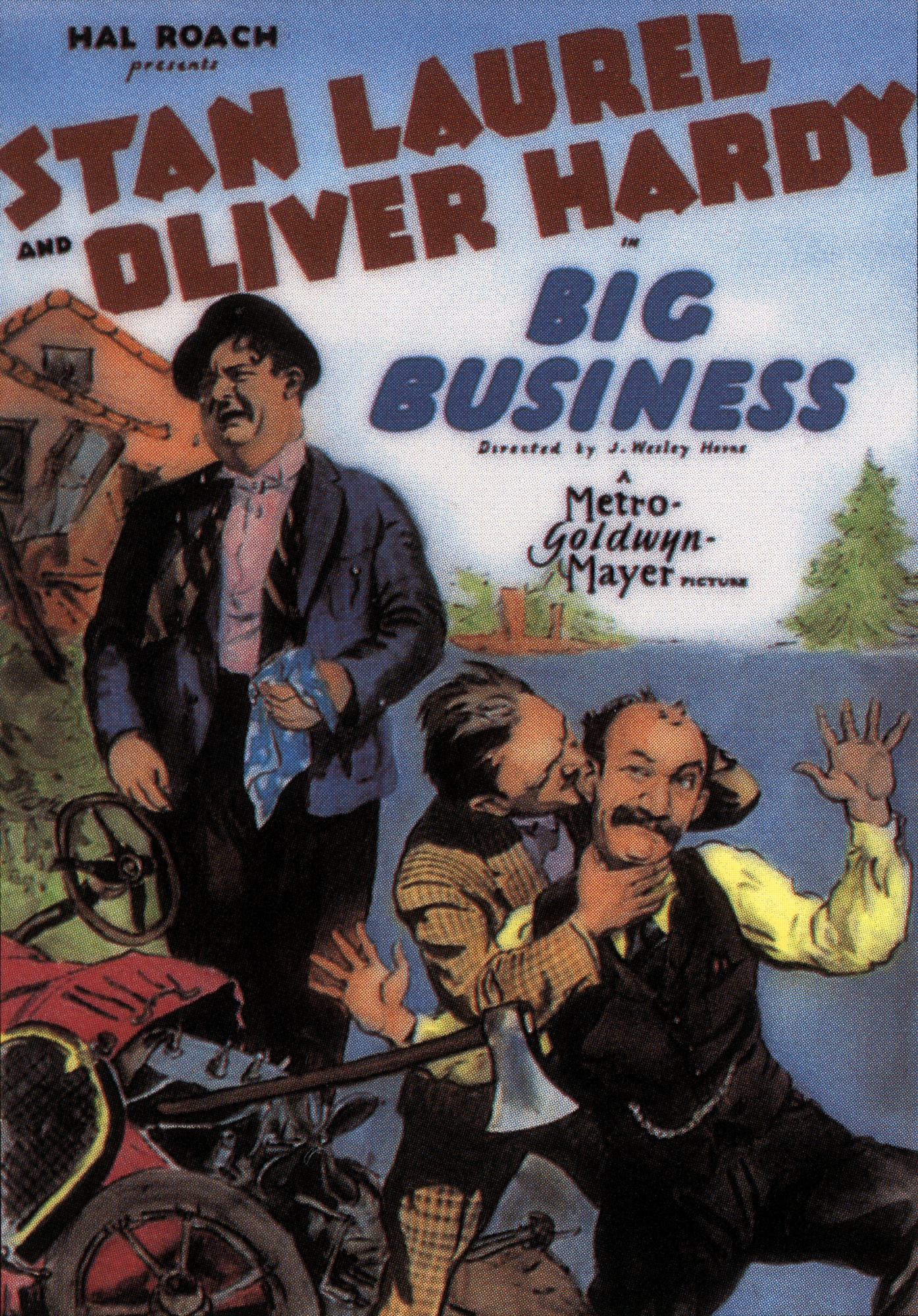 For a bit of light relief I turned to a series of Laurel & Hardy shorts, beginning with their most well-known Christmas-themed film,
Big Business
. For those of you not familiar with the plot, our heroes are Christmas tree salesmen plying their trade in sunny California(!). They fail to sell a single tree and end up involved in a running battle with one particularly reluctant customer, which ends in destruction and hilarity.
In
The Fixer-Uppers
Stan and Ollie are Christmas card salesmen who, in their own inimitable fashion, try to help one female customer win back her husband, only for after several funny misunderstandings to end up facing him in a duel!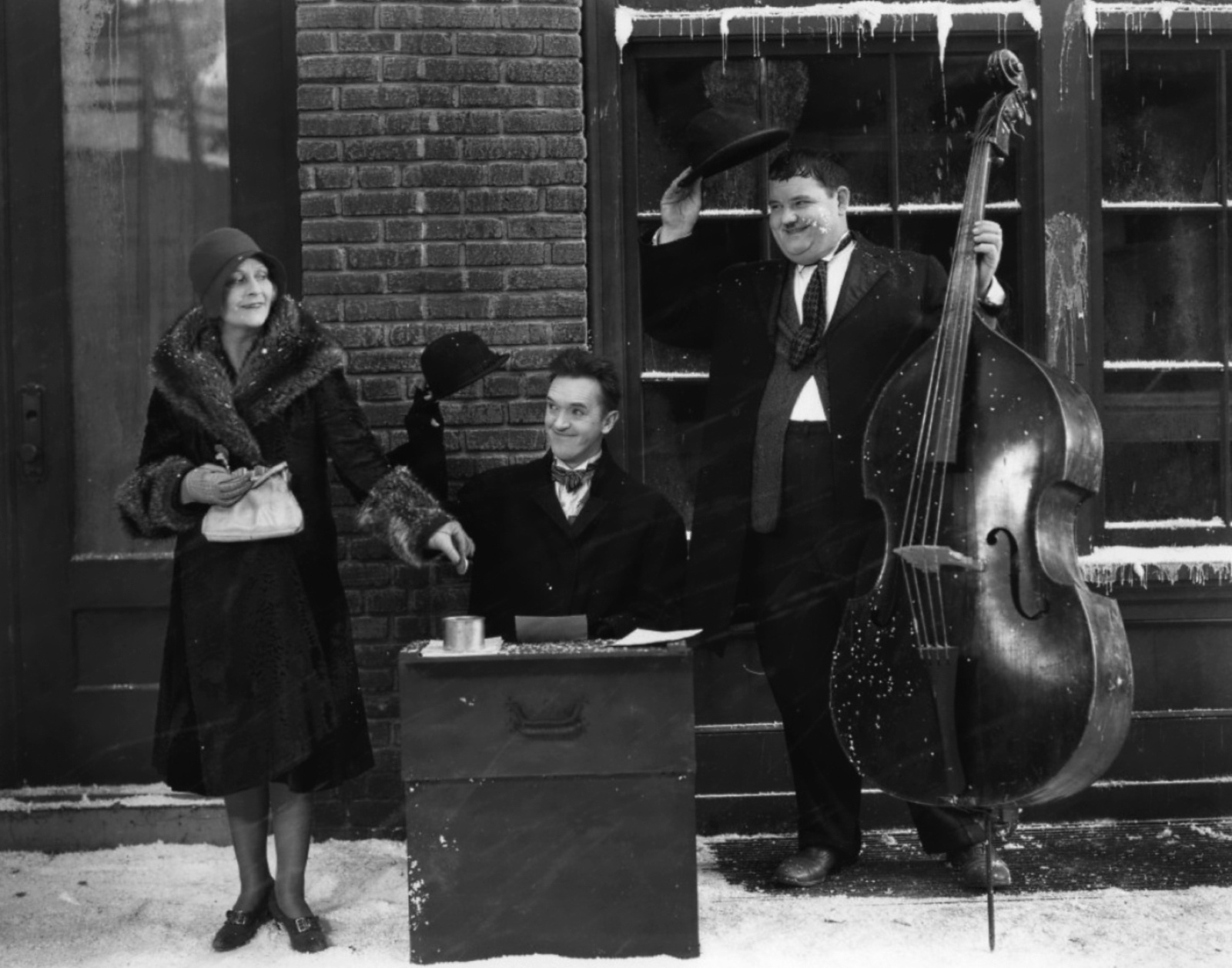 The films
Below Zero
and
Laughing Gravy
make no mention of Christmas but are set in the winter and do feature a lot of snow! In
Below Zero
the Boys are buskers trying to make a dime or two in the freezing conditions, before the chance discovery of a dropped wallet and a run-in with a cop leads to predictably side-splitting results. The wonderfully-titled
Laughing Gravy
has Stan and Ollie in all sorts of trouble as they try to hide the existence of Stan's pet dog of the title (and what a great name for a dog!) from their landlord as a blizzard rages outside.
Laurel & Hardy also posed for several publicity shots with a Christmas theme. Here are a few:
Starting shortly on Channel 4 (2:20pm) is the original 1947 version of
Miracle On 34th Street
, so that's another Christmas classic taken care of - I shall certainly be settling down to watch that. The 1994 remake, which is quite decent, is on ITV1 tomorrow at 12:55pm as well.
Then tonight I shall finish off with
Hercule Poirot's Christmas
, the 1995 Christmas episode of
Agatha Christie's Poirot
, starring the peerless David Suchet. Tomorrow morning I'll be off to the family pile to spend Christmas with the old folks, so whatever you may be up to may your Christmas bring joy, happiness and good cheer (plus plenty of food, drink and presents of course!) and I'll be back before the New Year.