Right, I said I had big ideas for this blog in 2011 and here's one of 'em:
film posts
. It's not very original, I know, and dozens of other blogs do similar features, but that must mean it's popular, right? Anyway, I'm going to give it a go - I can't promise it'll be any good or at all regular (I'll try to keep to Fridays at least!) but I reckon it has potential. To start with it won't be a detailed plot post nor an experienced fashion overview but, hopefully, still something of interest. A sudden urge a few days ago to embark on a classic gangster movie marathon (of which I am inordinately fond) gave me the initial idea so here is the first of a good dozen gangdom films in my collection in (roughly) chronological order:
The film begins with Rico and his friend Joe Massero (Douglas Fairbanks Jr.) as two-bit hold-up men making a living from robbing rural gas stations and eateries. They both dream about making it big in the City - Joe as a professional dancer, Rico as the next big mob boss.
Joe Massero (Douglas Fairbanks Jr) longs to give up the outlaw life and put his dancing
skills to good use in the vibrant City nightclubs. Then he might be able to afford a hat
that fits him properly (I mean, what is going on with that fedora? It's always bugged me
that it looks far too big for him).
Joe and Rico do go to the City and Joe gets a job dancing at The Bronze Peacock nightclub, owned by one of the local mob bosses. Rico joins another mobster's gang but stays friendly with Joe and coerces him into providing the "inside dope" on the club prior to robbing it.
Watching this again with an eye for the fashions I was surprised by the number
of patterned shirts in evidence, from polka dots and circles,


to stripes
One usually thinks of men's fashions of the period to consist mainly of white
and solid colour shirts, but this reminds us that this was not always the case.


Gambling at The Bronze Peacock. Quite a tricky and technically advanced
camera angle for 1931.
A girl in a dress, so the ladies don't feel left out(!). Olga Stassoff (Glenda Farrell),
Joe's new dance partner and girlfriend, wishes he would give up the life of crime.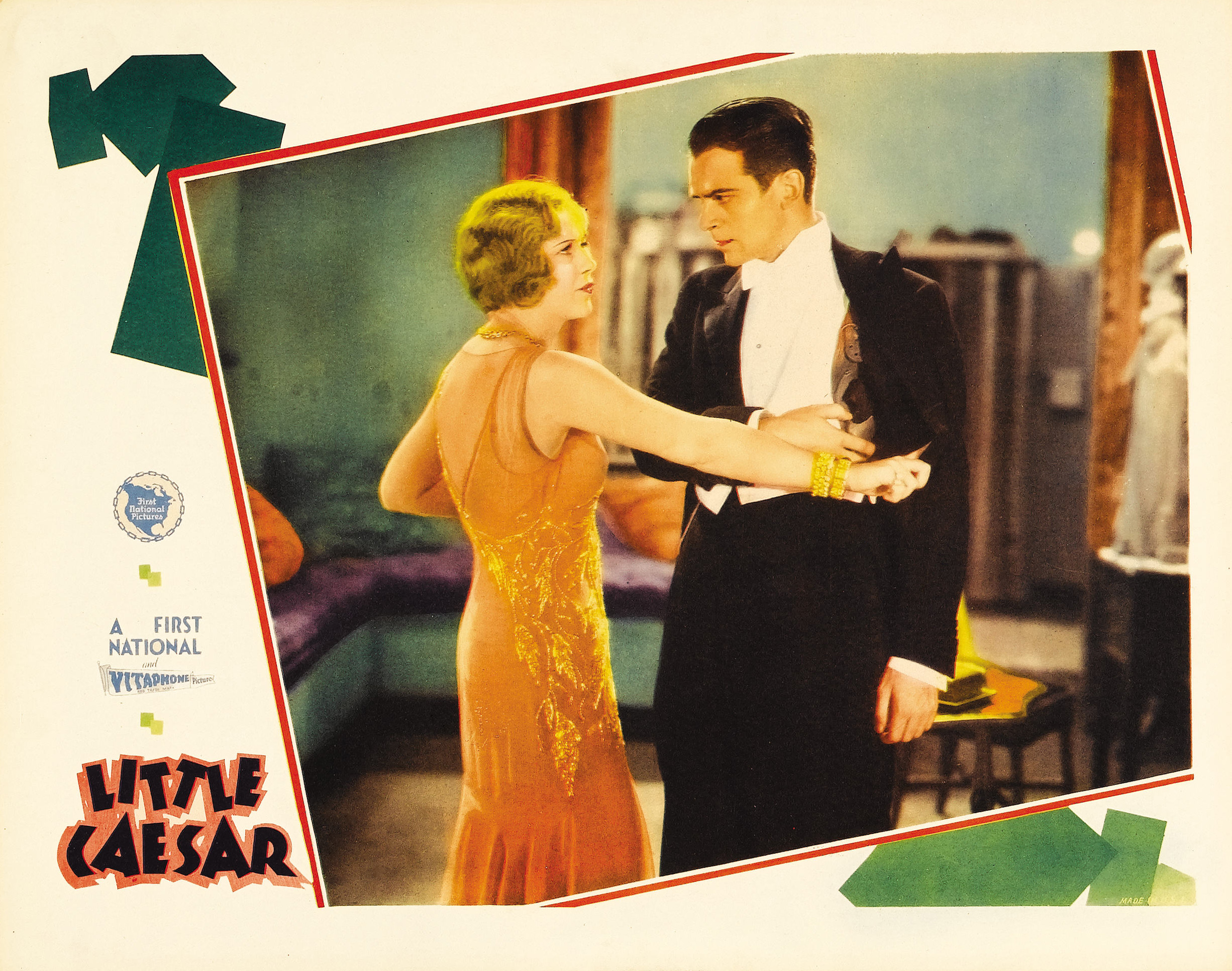 One of the slight troubles with black & white films is that it's not always possible to
discern colours. For some reason I'd always imagined Olga's dress in this scene as being
green but this poster shows it to be a brilliant orange, which I think gives it a whole
different new look.
Special mention must go to the chap on the right who is easily the worst actor
in the whole film. He plays the bodyguard of rival mob boss Arnie Lorch
(Maurice Black,

left

), owner of The Bronze Peacock. Thankfully he has only
about 2 minutes of screen time.
"Diamond" Pete Montana, boss of the North Side, wears the mother of all
(fur?) overcoats.
Sam Vettori (Stanley Fields) runs the mob Rico joins, but not for long. Rico
swiftly moves through the ranks to challenge Vettori's authority. Not difficult
when he chooses to wear a loud check suit like that. Rico's pinstripe number
shows who's the real boss.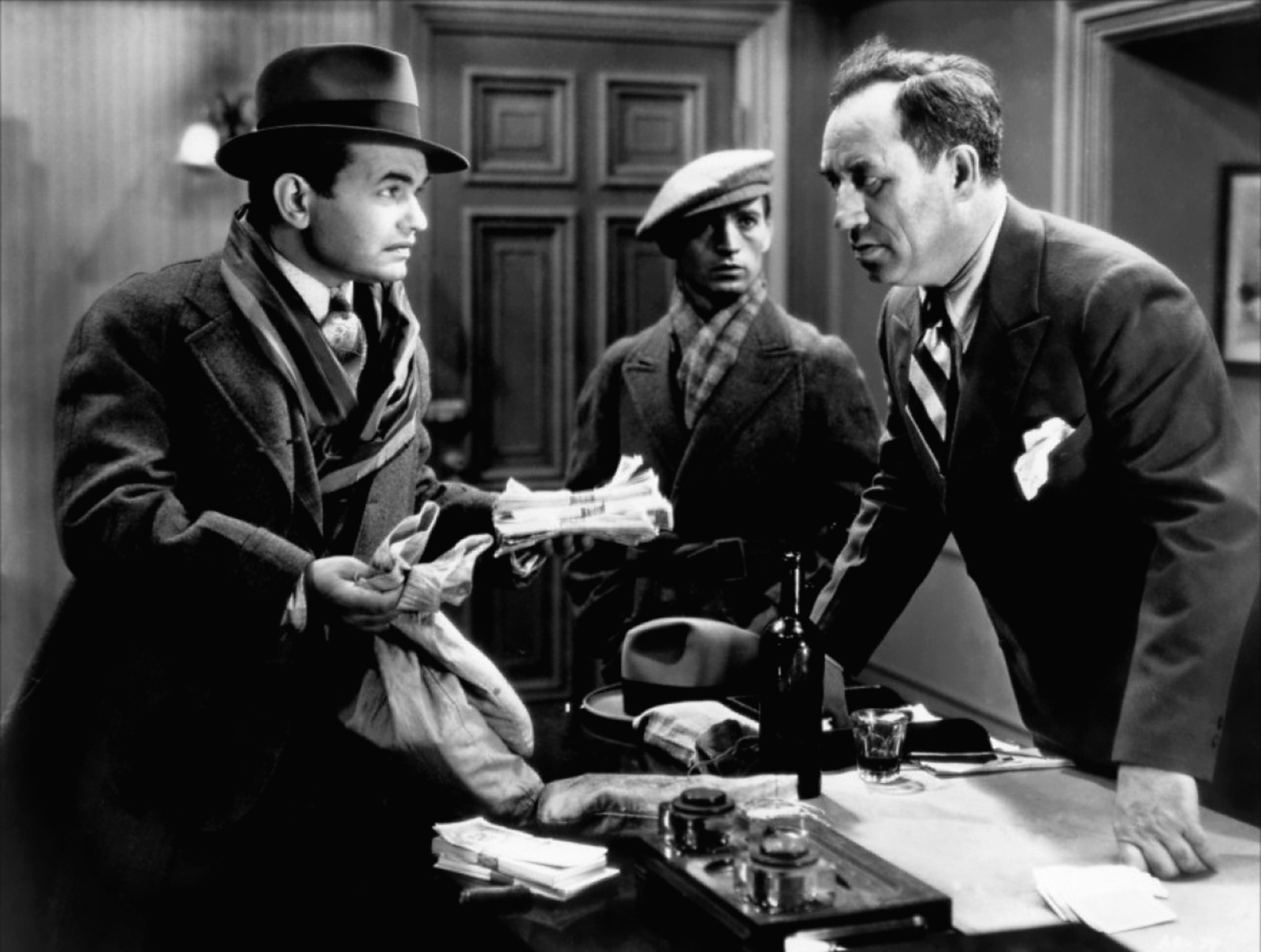 Soon Rico is giving the orders. Gang member Otero (George E. Stone,
middle
) sports a
great cap/scarf/overcoat combo. I've the scarf and hat, just need the coat!
Joe's finally found a hat that fits him. The pocket square in the overcoat pocket
is a nice touch.Joe's not happy about the planned robbery, but can see no way out.
Why can't more New Year's parties be like this? Whatever happened to paper
streamers and mob bosses in funny party hats?
The Law, Sergeant Flaherty (Thomas E. Jackson). Not much to say about him,
except he has such an annoying manner you end up positively rooting for
Rico and the gang.
Another great shot (shame about the quality, sorry) - the church steps. Scene
of a dramatic act.
Now Rico's a bona fide mob boss, he really dresses the part. The double-
breasted waistcoat is a great look.
So is Joe's double-breasted suit. He certainly comes out the winner in the
pocket-square stakes.
Olga, meanwhile, has had enough. She knows about Joe's involvement in the
club robbery, convinces him to turn state's evidence and calls the police. But
who will get there first, the cops or Rico, who finds out...?
Olga's dress appears to be velvet, with giant flowing sleeves. I wonder what colour
it is?
Well, there you have it - my first film post; I hope you enjoyed it. Next up, whenever that may be (a Friday, certainly),
The Public
Enemy
, James Cagney's 1931 breakthrough hit.