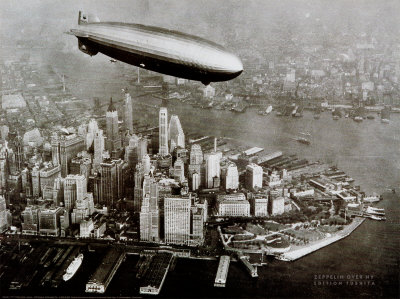 The new vehicle set to revolutionise the skies
The return of the Zeppelin: not just a flight of fancy
I've been following the progress of this machine for a couple of years now and it's actually beginning to sound like it's on track for success. The promise of 1,000ft-long airships sailing through the skies again sounds almost too good to be true.
Never mind all this nonsense about it being a "Hybrid Air Vehicle" and a "revolutionary new vehicle" - they can say what they like ("airship has negative connotations" indeed!) it
is
an airship. OK, maybe nowadays it's better than the dirigibles of 80 years ago, but that's only thanks to new technologies and designs. The direct antecedents of this machine are still the wondrous Zeppelins of the 1920s and '30s. In a way, this is a good example of the ideal I've been talking about in previous posts - vintage ideas and solutions revived with modern equipment (and British equipment and know-how at that!).
Airships may have ruled the skies during the interwar years (and what I wouldn't give to have been able to see a zeppelin in flight!) but now they look to be on the cusp of a proper renaissance and will be put to uses Count von Zeppelin and Hugo Eckener could only have dreamed. Who knows, if this new airship is successful in a cargo-carrying capacity it may herald the restart of a passenger service (not to take anything away from
Zeppelin NT
who have been offering sightseeing tours in Germany, and elsewhere, for several years now) and a new Golden Age of airships may well be on the cards!