Golly gosh, I'd forgotten just how time-consuming a full working week can be! Still, here we are again, what? The first week of a new job is under my belt and now I've got some time to sit down and write a few lines of this and that - all that has been leading up to this week just gone.
The week previous - that is, two weeks ago now - I spent some time nosing around my local branches of Debenhams, Marks & Spencer and BHS hoping to score some bargain items for m'wardrobe in the summer sales. I was not disappointed, either, as Debenhams' sale was in full swing (they don't seem to call it the Blue Cross Sale any more, unless they're saving that for Christmas/January?) and I picked up two smashing pairs of cotton trousers that will go well with the majority of my jackets for a casual summer look. Most importantly, Debenhams' men's trousers go up to a 34" inside leg - perfect for the long of limb such as myself!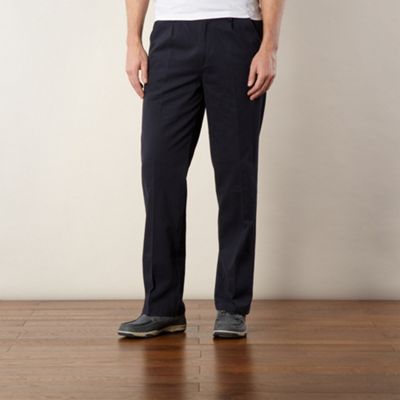 Maine New England Navy twill chinos, £12 from £20 at Debenhams
(**sold out**)
The navy blue is a nice, muted colour - giving off an almost workmanlike vibe - but the terracotta twill is my absolute favourite, adding a welcome and different dash of colour to my outfits.
Maine New England Terracotta twill chinos, £10 from £20 at
Debenhams
Marks and BHS had less on offer (and M&S wonders why its year-on-year clothing sales keep taking a battering - definitely a "could do better" on the men's clothing selection, at least) but I was still able to score this beautiful "Autograph" knitted silk tie for a frankly unbelievable £4 (it was actually still marked up at £7.50 on the ticket - I do like pleasant surprises!).
It actually goes quite well with the terracotta trews, don't you think? It's wonderful to the touch, of course, and knots well too - something that's not always a given with knitted ties, I've found.
Saturday last found me in Rayleigh for the town's first ever Antique & Vintage Street Market, run by the same people who put on the local Runnymede Vintage, Antique and Retro Fairs that I have been to many times in the past and enjoyed, as has been mentioned on this very blog. Alas I can't see this street market becoming a regular one as it was really very poorly done with barely half a dozen stalls in the high street (which had not been closed as I was expecting), largely selling stuff that would have better been described as bric-a-brac. There were supposedly more stalls around the corner outside the local auction house (Stacey's, occasional star of
Antiques Road Trip
and
Bargain Hunt
) but we - mother, sister and I - we so disappointed we didn't bother with that but instead hit the charity shops. There I was able to pick up a nice T.M. Lewin shirt for £3.50 and an interesting CD for £1.
Twenty-four songs from The Radio Rhythm Club, a name I'd never come across before but actually that of a B.B.C. programme broadcast during the Second World War. The Radio Rhythm Sextet was led by a young Welsh clarinetist called Harry Parry(!) who greatly admired American bandleader Benny Goodman, to the point where he emulated him with his own group of top British instrumentalists of the time. Sadly Harry Parry died in 1956 at the age of 44; The Radio Rhythm Club and Sextet seem to have been lost to the mists of time, since I can't seem to find out much about them. The Benny Goodman influence is obvious (but just with a soupçon of British smoothness) and it maybe this overt similarity, plus changing musical tastes after the war, that ensured The Radio Rhythm's obscurity.
Still, after all that, I'm glad I bought the CD as it certainly does bubble along. I do like the Benny Goodman sound anyway and was only recently thinking about finding some more 1940s music, so this ticks the boxes. Have a Boogi to this:
What else has happened? Oh yes, I marked the 100th anniversary of the start of the Great War on the 4th August with a single candle and the "lights out" motif, as did most of the country I think. The B.B.C.'s coverage was rather good, I thought - slightly reserved rather than overdone and all the better for it.
This was the same candle that I burned (we were all given one) at my granddad's
funeral back in 1997.
I'd never lit it since but it somehow seemed right to use it on the anniversary of WW1
Well, that's all for now, I think. There's going to be a bit of disorder around here for a little while longer as I continue to settle back into a 5-day working week and get comfortable in the new job but as long as I can post at least once every weekend I'll be happy - and hopefully you, my readers, will be too! I've already got posts planned featuring the two surviving Lancaster bombers flying together for the first time in 50 years, plus a 61-year-old woman driving a 110-year-old car across Australia! In the meantime I do still enjoy reading your blogs when I get the chance - usually now a special treat after work! - and I hope you'll continue to stick with mine during this transition.